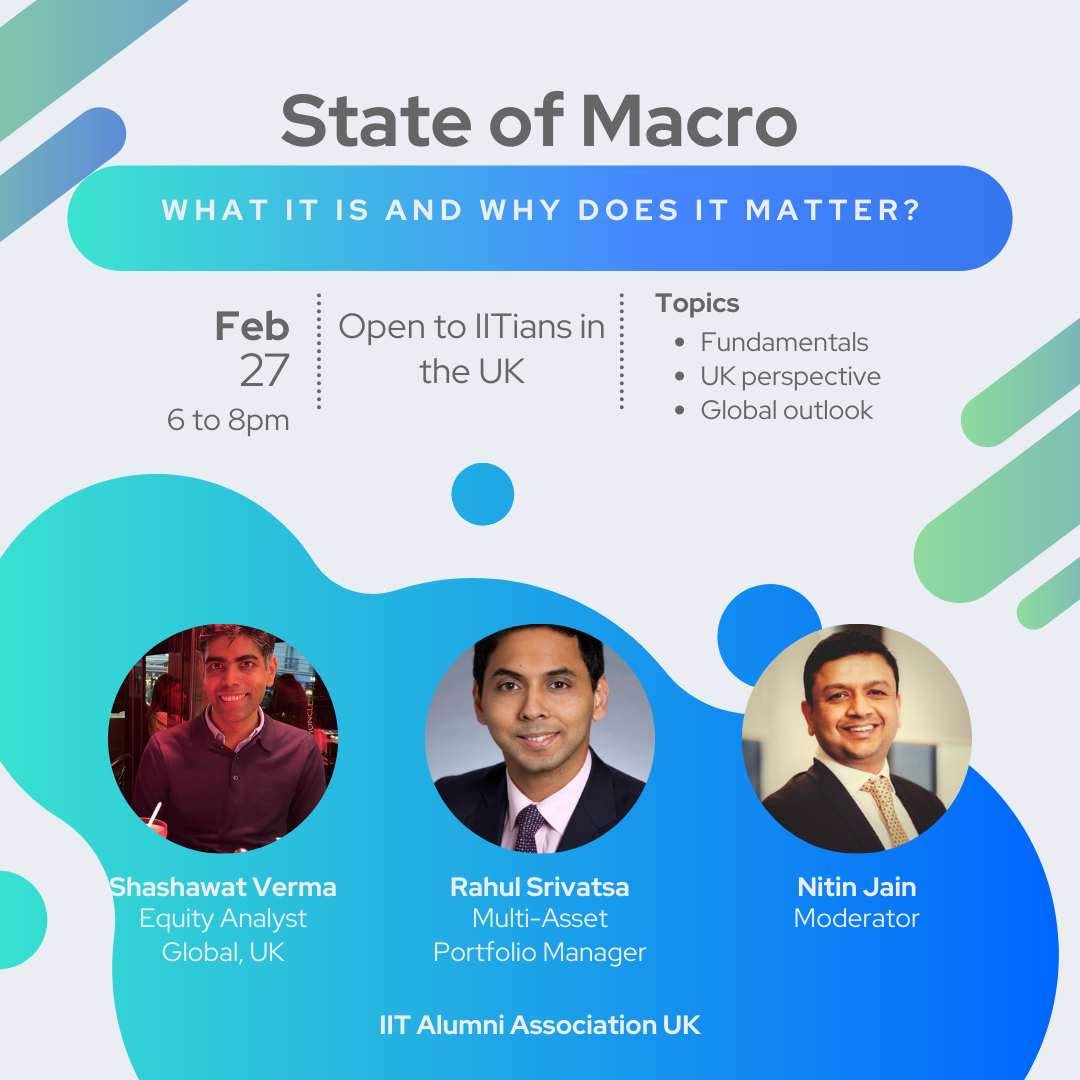 State of Macro: Drivers of Change
Macroeconomics Panel Discussion
Inflation, employment level, government borrowing and economic growth of a country are some of the key macroeconomic objectives. These are usually considered as external variables for organisational planning and cant be controlled by one company or a sector. The dynamic world we live in makes the interdependencies among these external variables complex, nonlinear and difficult to predict. And so for startups, corporations and even personal planning it is important to understand Macroeconomics. Join us for this fun but useful session to learn about the state of macro from our experts.
Panelists' Bios
Rahul Srivatsa: Rahul is a Multi-Asset PM with Fidelity, working in London. He is a graduate from IIT'M and LSE and has been working in financial services for the last 14+ years. His emphasis is on managing allocation on a top-down basis through a combination of systematic and discretionary processes, specialising in cross-asset macro investing.
Shashawat Verma: Shashawat is a graduate from IIT'D and has been in the financial services sector for over 15 years. Based out of London, he specialises in the fundamentals and macroeconomic analysis, key market moving variables, currently working as a deputy portfolio manager. He has track record of consistent and successful fund alpha generation over multiple years.
Programme
6:00 pm: Open networking
6:15 pm: Panel Discussion
7:15 pm: Networking and Breakout rooms
7:45 pm: Feedback
8:00 pm: Close
Note: This will be an informal knowledge-sharing session with discussions on macroeconomics. This session can't be recorded and any views and opinions discussed during this session can't be construed as financial advice. All the participants are expected to perform their own due diligence and discretion. The views and opinions expressed in this session will be shared in a personal capacity and do not reflect the views of employers.