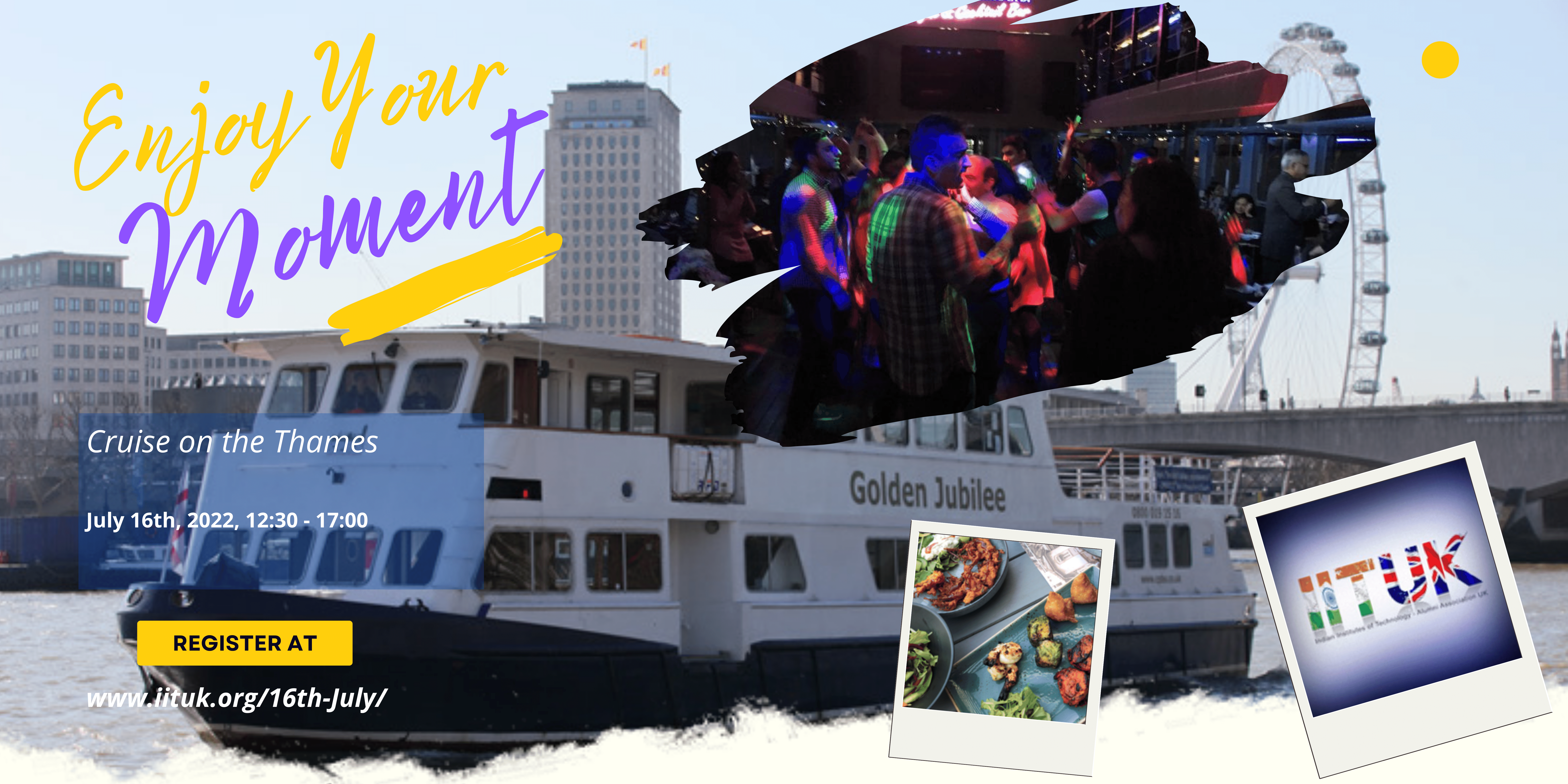 Boarding Point: Temple Pier, Victoria Embankment, London, WC2R 2PN
NOTE: WE ARE NOW FULL AND NOT TAKING ANY MORE BOOKINGS
Summer is the time to enjoy the weather with friends and family.
And what better way than to spend that with your fellow IIT Alumni and their families sailing on a cruise on the Thames along with dancing to the tunes of a DJ belting Bollywood songs.
Join in on the 16th of July at 12:30 pm at Temple Pier on one of the best London party venues on the River Thames. It promises to be an event which would be remembered for long with lots of opportunity for participation by children and families.
Event Highlights:
Welcome Drink
Sumptuous Indian food
Music, dance with professional Bollywood DJ
Raffle & Games
Opportunity for networking and family get together
One 500ml of bottle of water will be provided in addition to the welcome drink. Further rounds of alcohol and soft drinks including additional bottles of water can be purchased at the bar.
Tentative program:
12:30-12:45 – Arrival and Registration
12:45-12:55 – Boarding.
13:00-14:00 – Performances, Networking, Fun & Games
14:00-15:00 – Meals, Drinks and Networking
15:00-16:45 – Music and dance with Bollywood DJ
16:45-17:00 – Conclusion and Disembarkation
NOTE: THOSE WHO ARE NOT REGISTERED BY 12:45 WILL BE LEFT BEHIND
Tickets:
Members including family members – £42 per person (Age 5 onwards)
Guests/Non Members – £50 per person (Age 5 onwards)
Children under 5 – Free