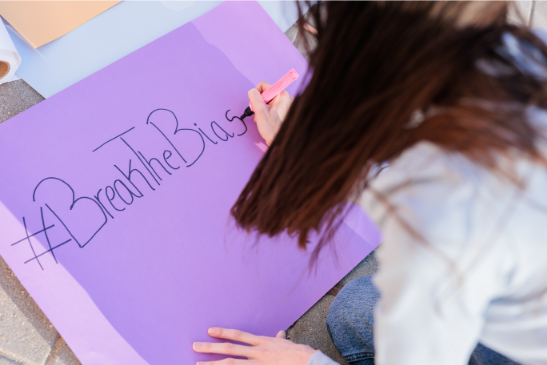 "The story of women's struggle for equality belongs to no single feminist nor to any one organization but to the collective efforts of all who care about human rights." – Gloria Steinem.
International Women's Day (March 8) is a global day celebrating the social, economic, cultural, and political achievements of women. The day also raises awareness against discrimination and marks a call to action for accelerating women's equality.
With the aim to encourage discussions about gender parity and pledge collective action to help forge an equitable and inclusive world, we are organizing a Women's Day event. During this event, we will have talks about overcoming bias in women's lives and raising awareness about important issues affecting gender equality. This will be followed by a trivia quiz focused on women's achievements, and a book club session discussing female centric books. After that, we will have a networking event.
We have an impressive group of our own Alumni sharing their thoughts and provoking discussions.
Talks include:
1: Subtle sexism at workplace. Speaker: Aishwarya Mallik
2: Gender Bias in Design and Thinking. Speaker: Cashmira Pramanik
3: Break the Bias: Indian Women in Tech- Perceptions vs Reality. Speaker: Mili Shrivastava
4: Women in STEM: a panel discussion. Moderator: Ritu Kataky Panelists: Keerty Agarwal, Debjani Das, Madhusmita Mishra, Aina Rao
Tentative schedule:
3:00 PM: Open networking
3:10 PM Welcome and opening statements
3:15 PM: Talks followed by Q&A sessions
4:15 PM: Networking
5:00 PM: Feedback and closing comments
Aishwarya Mallik
Aishwarya Mallik, FX Options Trader, Deutsche bank, IIT Kanpur batch of 2013.
She works as an FX Options trader at Deutsche bank. She has more than 4 years of experience of working in financial services industry with the bank and Mastercard. She is a coffeeholic who enjoys walking with a cup. Loves nature and maths.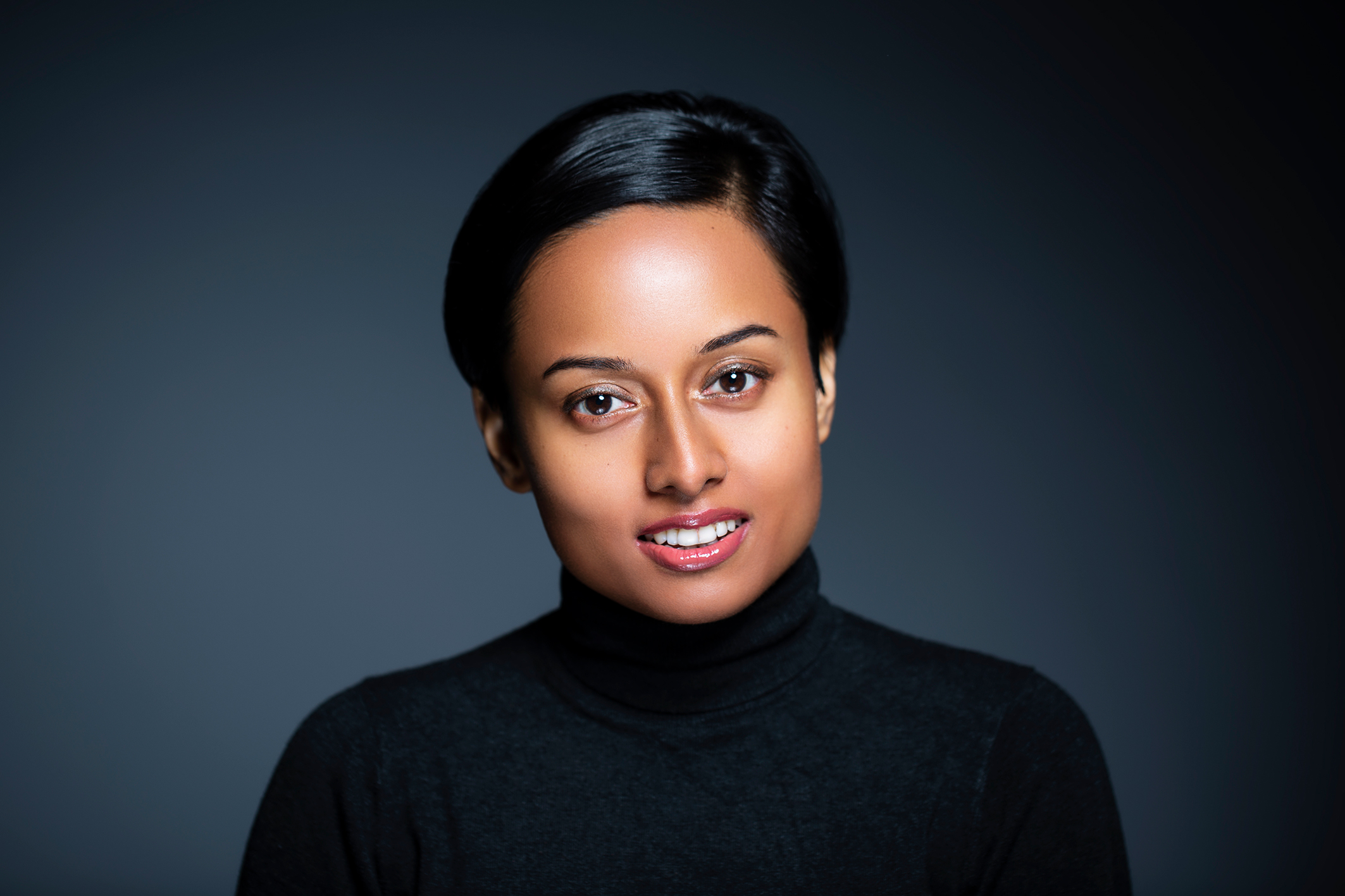 Cashmira Pramanik
I am from Bengal, India, born in Kolaghat, a small rural town in Midnapur
I have trained as an architect at IIT Roorkee, graduating in 2011.
I then pursued post graduate studies in business & management at London Business School and Stanford University. Most of my career, I have worked in UK in Data and Analytics space. During the course of my time in England, I got drawn towards visual storytelling and experimented with fine arts, photography and finally filmmaking. So, in 2019, I took a six months filmmaking (directing) training at Met Film School London on full scholarship. I have written and directed two short films till now, one of which (The Mute) has won recognition and awards at a number of international film festivals, and the other (Red Fountain) is in final stages of post-production. I am currently working on my third short film (Angel Fleet) to be shot in the summer of this year.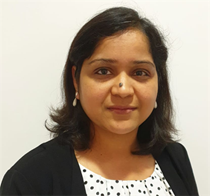 Mili Shrivastava
Dr. Mili Shrivastava is 2003 Master's graduate from IIT Delhi.
She  is a senior academic in Strategy at the University of Bournemouth with a Ph.D. in Economics from Max Planck, Germany, and a Masters in Mathematics with Computer Science from the Indian Institute of Technology, Delhi. Dr. Mili is an expert in Women in Tech, Women Entrepreneurship, Inclusivity, and Sustainability. Mili has authored and co-authored several research and media articles on women. Her work has a global reach and she engages with national and international organisations on gender, inclusivity, and sustainability on various projects.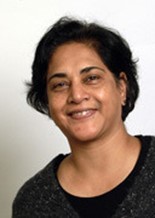 Ritu Kataky
Ritu Goswami Kataky is a Professor in the Department of Chemistry at Durham University , United Kingdom. She received her doctorate degree from the University of Newcastle upon Tyne following a Master's degree from the Indian Institute of Technology in New Delhi, India.
She has successfully combined an internationally recognised academic career with bringing up a family. She is a leader in electro-chemical research, with environmental, clinical and industrial applications, winning major grants to pursue this research.
Her research has led to the establishment of a spin-off company, SmartBioflms Ltd , in which she is a Founder Director.
In addition to her research she has worked for many years to improve gender and racial relations, mentoring younger female colleagues and supporting women often disadvantaged in cases of formal or informal academic competition with their male colleagues.
Kataky has also invested in well-being. Alongside her considerable academic duties she has pursued a yoga teaching qualification with the British Wheel of Yoga and she is an inspirational teacher for a group of colleagues and friends.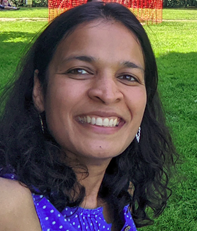 Keerty Agarwal
Keerty is a super strong single mother, doting daughter and a witty woman in Tech. She holds a Bachelors in Computer Science from IIT-BHU and Masters in Business Analytics (Data Science) from the University of Surrey. Originally from Jhansi, Keerty now lives in London with her daughter and 2 kittens. Keerty is an ECB Level 1 cricket coach, #IamRemarkable facilitator, a STEM Ambassador and for her day job she works in strategic product partnerships with Google.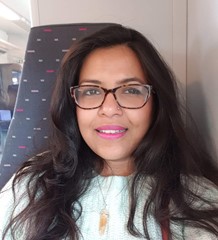 Debjani Das
Debjani Das is a Technology Lead for API Enabler Platform in Enterprise Engineering within NatWest Group. She is responsible in managing regulatory and discretionary outcomes that are according to OpenBanking API specification or OBIE guided regulation. A typical day for her looks like attending scrums, managing technical issues, design review/discussion, resource management and stakeholder communications. She also likes to paint in mixed media and an ardent lover of Indian weaving heritage especially Sharees from different states.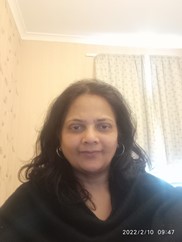 Aina Rao
Author and creator of ambling Indian, a cartoon character – an aam aurat ( common woman ) of India, who discovers and enjoys as she writes about India on her blog and books.
Madhusmita Mishra
Madhusmita Mishra, Ph.D works for Eurofins Lancaster labs at client site in Kent. She currently serves on the Innovative Parenteral Product Development formulation team. Since joining the team in 2016, Madhu has been instrumental in delivering novel drug formulations for clinical studies, notably the COVID IV project. Prior to this I have worked in Portsmouth University with postdoctoral experience on compatibility of drugs administered in paediatric and neonatal intensive care unit patients. These results were useful in framing guidelines for drug administration in NHS. Her expertise ranges from a variety of pharmaceutical technologies enabling delivery of small molecules. Solving problems during the course of development of such molecules energises me but I'm most grateful to be pictured as mother who is a scientist in pharmaceutical world.